KANGATRAINING CLASSES ARE ON HOLD FOR THE TIME BEING
Kangatraining is a complete one-hour workout during which both cardiovascular endurance/flexibility and muscular capacity/strength are enhanced.  The focus is strengthening the pelvic floor and abdominal muscles while paying special attention to correct posture.  Modifications are made for women with diastis recti.
You can print the health questionnaire here and fill it out at home prior to class or there will be hard copies available at the studio. If possibly arrive early for your first class so I can help you make any necessary adjustments to your carrier. If you don't own an ergonomical carrier, I have extras that can be borrowed for class!

We also offer seasonal KangaTrail (hiking) and Kanga On Wheel (stroller fitness) classes so we can all enjoy this beautiful city we live in !
Benefits of Kangatraining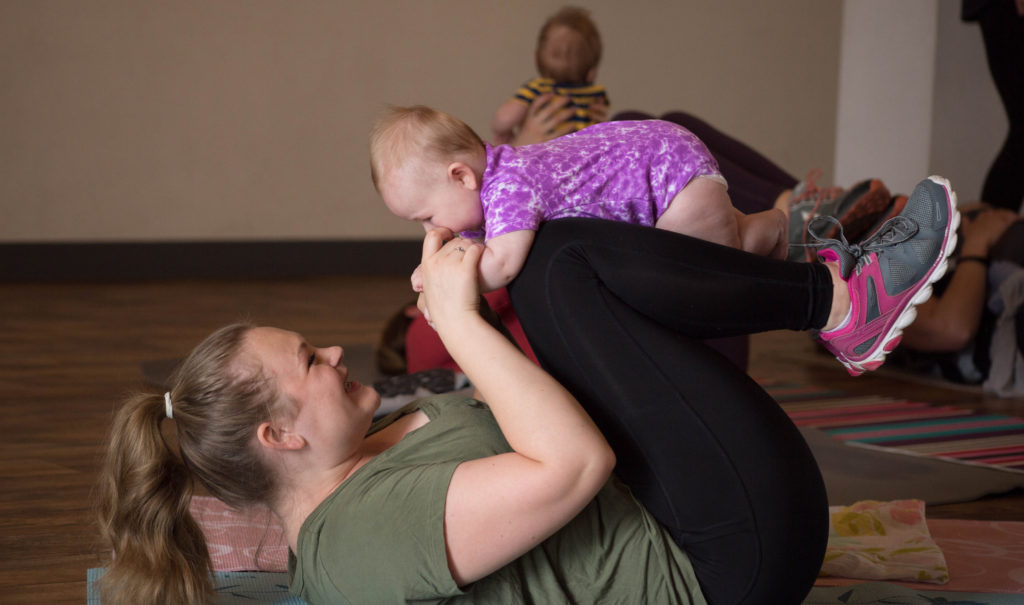 No need for a baby sitter – baby is engaged and interacted with the entire class!
Provides a total body workout designed for postpartum moms
Promotes mother and baby bonding
Creates positive outcomes for postnatal depression
Allows moms to meet other like-minded moms in a fun, relaxed environment that boosts emotional well being.
Provides a fun relaxed environment
Creates a support structure
Promotes healthy mind and body
Teaches safe and healthy babywearing
Frequently Asked Questions
What Kind of Carriers Can I use for Kangatraining?
Once a baby can sit up, a SSC, woven wrap, or Mei Tai works well. Heavier babies who can sit unsupported can be worn on mom's back.
You are welcome to bring your carrier so I can assess its suitability for the class. I will also assist you in getting the best fit and comfort for you and your baby. There will be demo carriers available at each class to try out and I will soon begin renting on an ongoing basis.
INFO TO KNOW BEFORE YOUR FIRST CLASS:
Wear comfortable exercise clothes, socks and shoes (or barefoot- especially in the beginning.)
Bring extra onesie for baby, diapers/wipes, yoga mat, towel, water bottle!
We offer training adjustments/ modifications for the various forms of pain or injuries common after a birth with complications or from everyday life after pregnancy, so be sure to inform trainer of concerns on your health questionnaire.
Breastfeeding mothers experiencing mastitis are not allowed to participate in Kangatraining. Breastfeed before session to relieve pressure and weight.
There is really no age limit for babies so long as every mother participating can wear their baby safely and comfortably. For restless older babies, or moms who have a baby and a toddler, the kids are welcome to play on the floor in the room.