Our PreK/K program (ages 4.5-6) is already full for the 2021-2022 school year, but please contact us to learn more about our new class for ages 6-7 beginning this Fall! For those wanting to be added to our waitlist for future years, please fill out the enrollment inquiry below.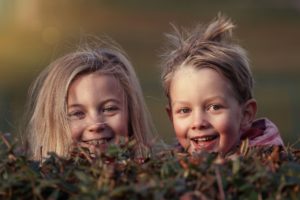 Growing Up Green's private 5-acre property off Miller Creek Road is a nature-based learning campus providing a unique preschool experience for 8 Missoula-area children. We've embraced the ideas of Forest Kindergartens, Nature-based learning, the Reggio Emilia approach, and Waldkindergartens as a guide in the creation of our environment. Our holistic, child-centered curriculum nurtures the student across all domains of development. Our 4:1 child/teacher ratio allows us to better meet the individual educational and emotional needs of our students. In addition to the time we spend in nature and exploring the community, we also offer many of the traditional preschool learning opportunities in our indoor classroom and large Salish-made tipi.
The environment includes natural settings, multiple outdoor learning areas, warm and comfortable indoor learning spaces, and field trips to immerse students in local landscape, heritage, and culture. We emphasize purposeful and productive developmentally appropriate play-based experiences to help children grow in a holistic way — physically, emotionally, socially and intellectually.
Our open-ended and interactive nature-based play curriculum helps to strengthen and cultivate:
divergent thinking
social and emotional skills
cognitive functions
empathy for the natural world
communication skills
physical competency and confidence
emotional intelligence
a long lasting personal connection to nature and animals
Our 2020-2021 school year runs 8/31/20- 5/27/21. Monthly tuition for students who attend Monday-Thursday from 9-3 is $535 per month. They'll be offered 146 days of school during the 9 months, making the cost of each day approximately $33. GUG will provide a healthy mid-morning and afternoon snack daily, accommodating all dietary needs. Please provide a water bottle for your child to be kept at school and also send a healthy, well-balanced lunch with your child everyday.
Our program serves 8 children and has 2 teachers.
We believe a developmentally appropriate PreK/ Kindergarten experience allows children to develop initiative, persistence, creativity, and a capacity for problem solving, which are all essential to future academic success. Due to the extreme transformation of public Kindergarten in recent years, many families see the value in waiting until age 6 to start public Kindergarten. Our program caters to the needs of students in this transition period (and those who miss the Kindergarten cut-off date but are ready for a preschool class made up of older children) by providing experiences to enrich the whole-child and allowing opportunities for open-ended learning and exploration. A year of Nature Kindergarten before transitioning to public Kindergarten will greatly benefit all children. Unfortunately we are not a substitute for Kindergarten if you're planning for your child's next school experience to be public school Grade 1, but we are a great option for those mentioned above and those who plan to homeschool or attend private school Grade 1.
We will incorporate daily lessons from the following 3 curriculums:
Pawsitively Social Emotional Learning Curriculum: This unique curriculum is based on longstanding research suggesting that animals play a significant positive role in the mental, physical, and psychological health of humans. Although dogs are not present during the curriculum implementation, students learn vicariously through the depiction of canine experiences in pictures, videos, and stories. This assists students in feeling safe to open their hearts and minds, and begin to share difficult social/emotional learning concepts that they may not otherwise explore. As we learn more and more about dogs during the first few months of school, we will begin searching for a dog to rescue who will then become our GUG school pet.
Zoo-phonics® Multisensory Language Arts Program: A kinesthetic, multi-modal approach to learning all aspects of language arts, including vocabulary development and articulation, based on phonics and phonemic awareness. Zoo-phonics® is a method developed to make children strong readers and spellers using a "phono" (hearing), "oral" (speaking), "visual" (seeing), "kinesthetic" (moving), and tactile (touching)—whole brain approach. Students actually learn the sounds of the alphabet and advanced phonemic concepts through an easily understood, concrete method of presentation.
Blossom and Root Early Years & Kindergarten Curriculum: A playful, gentle, and imaginative introduction to early academics. This hands-on, secular curriculum includes picture and composer study, weekly art projects, nature study, literature, early reading and writing foundations, an introduction to history and geography, foundations in early math, and S.T.E.M. projects.
Interested in joining our waitlist or learning more? Contact us now!