We currently have room for 2 more friends to join us next school year!! Email growingupgreen406@gmail.com to learn more.
Are you looking for a school for your 4 or 5-year-old where they get to explore, create, climb, jump, run, hang, and balance? All while learning about the natural world around them? If so, Nature School is the place for you!
We learn and grow along with the Montana seasons and spend over half of our days outdoors on our beautiful 5 acre campus. Our main emphasis is supporting social emotional learning while providing sensory experiences for children to better understand their
bodies and their physical capabilities. Mix in some phonics, handwriting, drawing, painting, mud kitchen play, insect exploration, etc. The lot goes on and on and the learning opportunities are limitless.
We operate Monday- Thursday from 9am to 3pm, September- May. $533 per month. Located on Missoula's southside off Miller Creek Rd.
Interested families: Please send us an email to growingupgreen406@gmail.com. In order to provide a detailed overview of the program before the attending a tour, we will reply to your email with a Parent Handbook and Application Form. This will help you decide if the program is the right fit for your family before scheduling a tour.
Enrollment Process:
All interested families will complete our application form and return it ASAP along with a $25 non-refundable application fee. Application fees can be paid in cash, check, or Venmo (@Growing-Up-Green).
Enrollment criteria: Due to the unique characteristics and limited class size of our program, it is imperative that we enroll students who will thrive in our open campus and easily adjust to the daily schedule required. Our enrollment criteria include:
The child's age (oldest children get preference. Students must be at least 4.5 by the first day of school to apply unless previously discussed.)
The child's independence levels (bathroom, dressing/undressing, etc.)
The child's ability to follow guidance and make safe choices in potentially dangerous activities or environments.
The date their family expressed interest in our program.
Siblings currently or formerly enrolled in our program.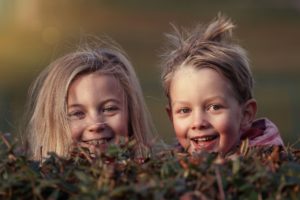 Growing Up Green's private 5-acre property off Miller Creek Road is a nature-based learning campus providing a unique PreK/K experience for 10 Missoula-area children ages 4.5 and 5. We've embraced the ideas of Forest Kindergartens, Nature-based learning, the Reggio Emilia approach, and Waldkindergartens as a guide in the creation of our environment. Our holistic, child-centered curriculum nurtures the student across all domains of development. Our 5:1 child/teacher ratio allows us to better meet the individual educational and emotional needs of our students. In addition to the time we spend in nature and exploring the community, we also offer many of the traditional preschool learning opportunities in our outdoor classroom and our large Salish-made tipi.
Our program operates Monday-Thursday from 9am-3pm. Monthly tuition is $533 per month, September- May. Our first day of school is September 5 and our final day of school is May 23.
The environment includes natural settings, multiple outdoor learning areas, warm and comfortable indoor learning spaces, and field trips to immerse students in local landscape, heritage, and culture. We emphasize purposeful and productive developmentally appropriate play-based experiences to help children grow in a holistic way — physically, emotionally, socially and intellectually.
Our open-ended and interactive nature-based play curriculum helps to strengthen and cultivate:
divergent thinking
social and emotional skills
cognitive functions
empathy for the natural world
communication skills
physical competency and confidence
emotional intelligence
a long lasting personal connection to nature and animals
We believe a developmentally appropriate PreK/ Kindergarten experience allows children to develop initiative, persistence, creativity, and a capacity for problem solving, which are all essential to future academic success. Due to the extreme transformation of public Kindergarten in recent years, many families see the value in waiting until age 6 to start public Kindergarten. Our program caters to the needs of students in this transition period (and those who miss the Kindergarten cut-off date but are ready for a preschool class made up of older children) by providing experiences to enrich the whole-child and allowing opportunities for open-ended learning and exploration. A year of Nature Kindergarten before transitioning to public Kindergarten will greatly benefit all children. Unfortunately we are not a substitute for Kindergarten if you're planning for your child's next school experience to be public school Grade 1, but we are a great option for those mentioned above and those who plan to homeschool or attend private school Grade 1.
Our unique Montana Nature Curriculum focusing specifically on Missoula and Montana plants, animals, and history. We also incorporate lessons from the Zoo-phonics® Multisensory Language Arts Program curriculum. This kinesthetic, multi-modal approach to learning all aspects of language arts, including vocabulary development and articulation, is based on phonics and phonemic awareness.